TEXAS HARDWOOD FLOORING
DFW Local Hardwood Floor Experts With Over 50 Years Experience!
A large percentage of the land in Grapevine is taken up by the Dallas/Ft. Worth International Airport, constructed in 1974. This has changed the city of Grapevine in radical ways over the last forty-plus years. Prior to the mid-20th century, Grapevine depended heavily upon agricultural production – even calling itself the "Cantaloupe Capital of the World," but quickly transformed into a regional center of commerce because of its proximity to the airport's north entrance. Its population boomed with the presence of the airport to over 50,000 residents. Growing alongside this this community, our team of local hardwood flooring installers has been proud to serve Grapevine business and homeowners for over 50 years!
Although the GameStop and Kubota corporations maintain their headquarters in Grapevine , much of Grapevine's commerce is rooted in tourism. The vast Gaylord Texan Resort and the Great Wolf Lodge are major leaders in the hospitality industry here, with 2,500 employees between them, and there are another 75 hotels in the city. Like the airport, they are magnets for big conventions and small business meetings, also in part thanks to Grapevine's historic and charming old downtown.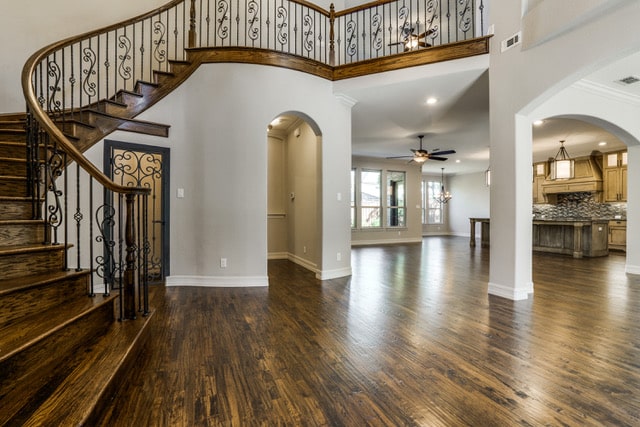 In downtown Grapevine, you can find over two hundred restaurants, as well as art galleries, and plenty of delightful shops. And, speaking of shops, Grapevine features one of the finest shopping malls in the country, Grapevine Mills. Downtown is also home to two beautiful theatres, the Palace and the Lancaster, which offer plays, musical acts, movies and other events in classic antique surroundings (recognized by the National Register of Historic Places).
Grapevine is a fine place to raise a family, and there are almost 19,000 households here. The city is on the shores of Lake Grapevine, which has marinas, wilderness trails, hiking and biking trails, camping and access to fishing and windsurfing. On top of that, the city offers an excellent school district for growing families and a magnificent new public library. Texas Hardwood Flooring is proud to serve the wide selection of homes of this great city, from the older modest ranch houses to the substantial new mansions that grace the landscape.
The city got its name for a good reason, as the area was covered in wild mustang grapes. Today, it is a leader in wine production in Texas (the 5th leading wine-producing state) with ten award-winning wineries in town. For the last thirty years, the city has celebrated with the annual GrapeFest, a four-day "family- friendly" festival every September. Other major events include Main Street Fest, the Christmas Capital Festival, and the season-long SummerBlast.
One delightful recreation here is the Vintage Railroad, featuring 1920's coaches that leave from the old train station downtown and travel along the old Cotton Belt Route as far as the Ft. Worth Stockyards pulled by either a 1893 steam engine or a 1953 diesel locomotive.
Reach Out Today
So many things to do in Grapevine, Texas, it's hard to keep track of them all. Texas Hardwood Flooring is a vital part of Grapevine, helping improve the city by installing hardwood flooring wherever it is needed. Contact us for hardwood flooring installation in your Grapevine home or business today!
REQUEST A FREE ESTIMATE & 20% OFF INSTALLATION