TEXAS HARDWOOD FLOORING
DFW Local Hardwood Floor Experts With Over 50 Years Experience!
Hardwood flooring is one of the most beautiful aspects of a home. It glimmers in natural and artificial light and the wood grain renders your home completely unique. But when your hardwood flooring starts to look weathered in a less than attractive fashion, you might consider reviving your flooring. Hardwood flooring refinishing processes are totally safe for the wood and can increase the longevity of the flooring. We recommend it for folks who:
Are just tired of the color of your wood flooring. You can refinish your flooring with a new stain to change the look.
Recently discovered you already have beautiful hardwood floors under that ugly, worn-out carpet. Refinishing those hardwoods will instantly add value to your home.
Are interested an inexpensive and highly-effective service that provides new life to your space and home value.
Our team of skilled flooring technicians at Texas Hardwood Flooring can extend the life of your existing wood floor with expert hardwood floor refinishing services.
When is Refinishing Wood Flooring Your Best Option?
If scratches or dings are in the hardwood, sanding and refinishing can restore the previous beauty and quality of the flooring. Make sure your boards are thick enough to be refinished – at least 1/4″ or wood above the tongue & groove needs to be available. Check at floor edges or around a heat register to see how much wood remains. Keep in mind that a hardwood floor can only be sanded and refinished so many times because you lose height each time you sand it. There may be gaps in the hardwood that need filling and other repairs to be made before starting to sand and refinish. If the wood floor feels spongy, if it sags, or if boards are cupping, buckling or warped, then they probably need to be replaced before the wood flooring refinishing process can begin.
How Should I Prepare For Refinishing Services?
Analyzing how much refinishing your flooring needs starts with you. If you have an idea of what you want the flooring to look like based off of stylistic ideas or something similar, that idea starts with you. You may prefer for your flooring to hold onto the weathered look that complements your Victorian furniture in all types of lighting, but you merely want it restained. You may want to revive old hardwood flooring that looks like it belongs in an old saloon more than it belongs in your bedroom or living area. The level of refinishing is entirely based on preference and should be determined before you reach out to us. We're always happy to provide suggestions and a professional opinion, but we'll need your help to find a baseline for your wood's look first.
Is Your Flooring Dull?
If you have kids, animals or rarely remove your shoes before entering your hope and walking on your flooring, your wood will get dull fairly quickly. All of those things tend to track dirt and grime onto the floor, which actually scuffs up the finish and sometimes the wood of the flooring itself, making your hardwood flooring appear dull and lifeless where it was once quite enthralling and pretty. If the surface of your wood has only been dulled by use, it's a no-brainer sort of repair. To revive that shine, and if you're still in love the color you chose previously, you'll only need a hardwood floor refinishing service, without the sanding and dust that comes along with it.
Consider A Deep Cleaning
On occasion, it's best to start out – before determining you need refinishing services, by cleaning the flooring really well. We recommend thoroughly and carefully sweeping the floors with a soft bristle broom so you won't dull or scratch the finish anymore. We recommend running over the flooring with a vacuum too to catch any dirt that's deeply embedded in the wood flooring. Afterward, be sure to mop with a micro cloth and cleaner that's made especially for hardwood flooring. If, after all of this, your efforts prove fruitless, please do contact Texas Hardwood Flooring. We want your flooring to look as sharp as possible and a refinishing project might be all that's required to revive your flooring.
If It's Beyond a Quick Fix
Unfortunately, sometimes your flooring is beyond the abilities of a quick refinishing or cleaning. If your floor looks grimy, dry and brittle with deep scratches wide gaps and a generally unflattering appearance you'll need in-depth refinishing. This includes services like sanding, patching, re-staining and top coating. This may seem like a bit much, but it's genuinely the best way to approach tired wood flooring and each of those individual parts of refinishing the floor will come together, in the end, to make your flooring look nearly brand new.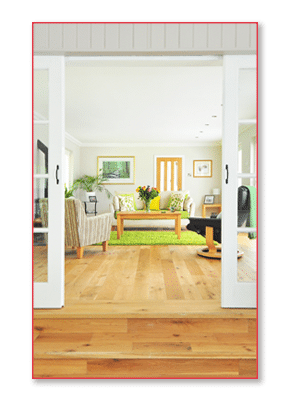 How much does it cost to refinish hardwood floors? The cost of refinishing your wood floors depends on the size of the room or rooms. Reach out to us to get an estimate today.